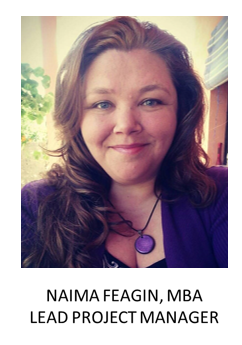 Naima Feagin MBA
Co-Founder "Fix the World Project Maroc"
Summary:
Creative, motivated, self-taught professional with a diverse background. American who lives in Morocco with her husband and business partner Tivon Rivers. Fifteen years combined experience in:
Project Management
Human Resource Management
Financial Management/Analysis/Reporting
Team Leadership
Grants Management
Entrepreneur Small Business Start Ups
Event Planning Promotion
Production Website Design Marketing and Sales
Education
Project Management Institute 2011
Coursework in Project Management
Wall Street Training 2011
Coursework in Financial Modeling
Western Governors University 2009
Masters in Business Administration
State University of New York Oneonta 2003
Bachelors of Arts in Entertainment Industry
Experience:
4/2012-Present
Co-Founder and Lead Project Manager of "Fix the World Project Maroc"  A company that specializes in health and wellness home décor products as well as online engineering education courses. Oversee all operations for production and international shipping to thousands of customers. Create and maintain all aspects, and educational materials of an online engineering academy with many members around the world.  Creation and maintenance of all marketing campaigns and systems around our business activities.
Financial Analyst Billion Dollar Project Management Firm in Boston Massachusetts 4/2010-3/2012
Began as an Analyst in Payroll and was later promoted to Corporate Finance role. Performed financial analysis duties on a seven person team that organizes all financial data and reporting for the Global Markets Business Unit of a Technology and Consulting Company consisting of approximately 2,000 Projects worldwide with Major Investment Banks, Commodities, and Asset Management Firms. •Financial analysis, cost analysis, profit and loss statement and projection creation •Lead role in the analysis and execution of state-to-state tax adjustments for over 300 employees
Assistant Director Budget Management Unit for New York State Government 2/2008-10/2009
Exemplified proven leadership in the development of a new business unit to support the needs of an increasing caseload of New York State Public Nutrition Programs. •Prepared expenditure plans and contract funding matrices for the annual budgets of statewide nutrition programs with a total annual budget of $810 Million. •Tracked and maintained all related expenses and managed requests for sub-contractor budget modifications as needed and generated detailed financial and operational projections. •Provided HR support to Unit Director in the areas of staffing recruitment, counseling and training and provided superior administrative support, including correspondence, legal documents and financial management
Entrepreneur Small Business Owner 2003-2008
Directed all aspects of ground-up music retail store and entertainment production company •Events planning promotion and production •Handled bookkeeping, order processing, supply/material sourcing and ordering, vendor supplier contract management and correspondence •Website design, marketing and maintenance for an online retail website