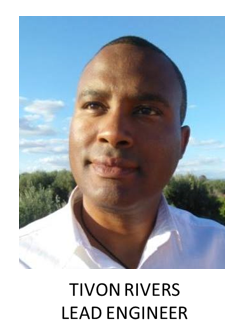 Tivon Rivers
Lead Engineer Fix the World Project Maroc
Summary:
Business Manager, former US Navy Technician and Alternative Energy Engineer with Key Skills in:
Product Design and Implementation
Business and Project Management
Supply Chain and International Shipping Logistics
Product Research and Development
Website content creation and Marketing
Advanced electronic and electromechanical fault finding and troubleshooting
Education:
Open University 2011
Coursework in Computing and Mathematical Sciences
University of Maryland 2005
Associates in Computer Studies
Navy Technical School 2001
Certification in Electronic Hardware Installation
Experience:
April 2015 – Present
Lead Engineer Clean Energy Technology Researcher
Fix the World Project Maroc
Design and creation of health and wellness products for EMF protection. Research, design and test clean energy solutions, and publish content to an online community of subscribers. Current research includes an effective method of rapidly charging capacitor and battery banks for off-grid energy use. The research is part of a larger ongoing open source co-development project. Work within a small team and we have grown an online community around the project, and manage the site's forums and chats.
October 2010 – March 2015
Software Support Engineer
Business Process Management Software Company
Role involves advanced support of Business Process Management software which is widely used among industrial clientele worldwide using Business Studio and iProcess suite. Troubleshooting often requires recreating the customer's environment via virtual simulation using in-house virtual networks. Customer issues are replicated across multiple OS and database platforms in order to identify any possible bugs which would then be escalated to internal Engineering and Development teams. Internal SLAs are handled via internal email workflow management software. High-priority issues that involve downtime in Production environments often require Webex support.
July 2008 – September 2010
IT System Support Engineer
School Education Software Company
Provide 2nd line technical support to network administrators and staff of over 1,000 primary and secondary schools throughout the UK. Responsibilities include; the mentoring and training of college graduates and contractors, troubleshooting the installation and maintenance of network management software, server hardware support and the installation of antivirus software, patches and driver updates. All calls are monitored by internal SLA/call-logging software and are prioritised by their impact on the classroom or school as a whole. Fault diagnosis and resolution regularly involves: assisting via Remote Desktop Support (and VNC), fault simulation using VMWare and escalating tasks to other teams.
September 2007 – June 2008
IT System Support Consultant
Medical Information System Company
Provide 1st and 2nd line support to clients within the NHS using EMIS products. Role is in a call centre environment responsible for over 5,000 GPs throughout the UK. Support is provided on a Wintel TCP/IP network. Resolution of software and hardware specific queries is handled via tasking system implemented using EMIS workflow management software. Tasks are categorized by the impact on the customers' workflow. Fault diagnosis and resolution regularly involves remote desktop support (VNC) and coordinating with other departments. Responsibilities include; system down resolutions, GP account management with Active Directory, installation of antivirus software, patches, driver updates and hardware fault resolutions.
August 2006 – September 2007
Self employed Graphic designer / Artist / Illustrator
Following honourable discharge from the US Navy I worked on a range of projects in a self-employed capacity involving both traditional fine art and computer graphics. Commissions included digital illustrations for book covers, computer graphics for web sites, vector graphics for logos, graphics for commercial vehicle transfers, pencil sketches, book illustrations and traditional oil paintings.
2000 – 2006
U.S. Navy Technician